I ended up liking the main restaurant for dinner. This is the restaurant that serves ala carte (and buffet) breakfast and ala carte lunch. The seared sea scallops were my favorite dish of the entire trip (well, the ribs at lunch were really good too). I almost asked for a main meal of just sea scallops they were that good. I ate here 3 times. The first time I had Chateaubriand and it was really much more like a rib eye with a cream sauce. I wasn't impressed. The second time I had the Pad-Thai noodles and they were excellent. The last time I had the grilled mahi-mahi (which I had almost every day at lunch also) and it was fabulous as usual. Do not miss the Royal Salad here (see my daily blog for detailed description).
Toscana Italian Restaurant
: I enjoyed eating here twice. They serve olive oil and balsamic vinaigrette with bread, so of course, I am in heaven. Both times I had the same appetizer: Insalada Toscana which is asparagus, cherry tomatoes, chickory, and wild mushrooms sprinkled with vinaigrette and pine nuts. Fantastic! I had lasagna the first time. As to be expected, it was different than lasagna back home, but surprisingly good. I had Penne CArbana the second time. It was made with a ton of fresh bacon, so I didn't care for it all that much, but bacon lovers would rejoice. First meal I had a canoli for desert that I did not like. Second meal I skipped dessert (I must have been sick lol). Here is the menu. If anyone is great with photochop and wants to get these menus in better shape, It would be much appreciated!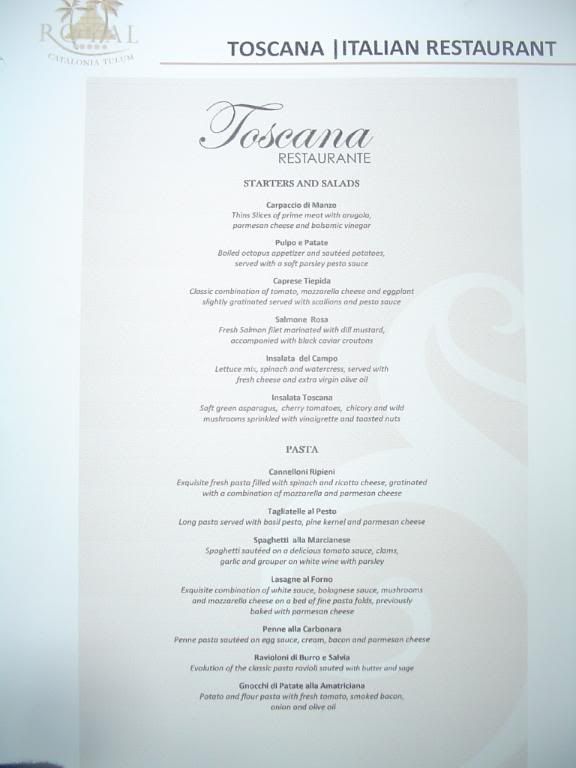 The Grill: Sort of a tex mex meets real Mehico joint. I liked the ambiance here best of all. This restaurant is right on the beach (serves continental breakfast and buffet lunch). Fabulous sea breeze, open air. I Ate here twice also. First appetizer was the crab cake and I liked it. Second time was the asparagus and mushroom salad and I love this! I had the French onion soup first trip and did not care for it (others have raved the loved it). A bit to brothy for my liking and positively not enough of the cheese. First meal I had the prime rib certified USDA. It had the appearance and texture of a rib eye, I wasn't impressed. Second visit I had grilled Mahi-mahi and it was fricken delicious!! For side dishes I had the twice baked potato, the mushrooms, and the wild asparagus (at different times). Very good. For dessert I had the Boston Brownie twice. OMG delicious. I usually don't like dessert in Mexico, but I loved this!
MExican:
I ate here twice. I must admit, I'm more of a taco bell kinda girl. To me, a burrito should be about the size of a hot dog and a taco comes with lettuce and tomato. This is more authentic Mexican food. It wasn't bad. But the burito (which I was told by the entertainment team is not even Mexican!) was nothing like what I am used to. The tricolor salad and Lol-Tun salad were both very good. I passed on dessert both times I ate here.
Sorinto
(sp?) is the beach restaurant serving ala carte sandwiches, pizza, fries, burgers, hot dogs, etc.. It is open from noon to 6:00. The rotisserie chicken here was fabulous. I wish there was a better view of the beach/water from this beach side grill. Unfortunately, the Jacuzzis sit up high and block the view of the ocean, but there is a nice view of the pool.
Here is the menu. Again, I liked the fresh rotisserie chicken. The pizza was popular. I never tried the Duck wrap thingy or the roast beef. If anyone can photochop this pic so it is easier to read, please feel free: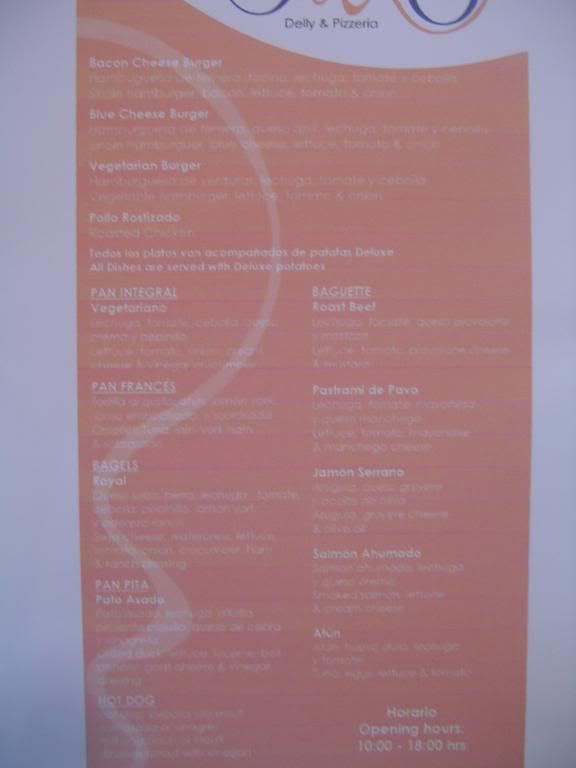 Here is the menu for Tapas Restaurant and lounge. I never ate here for two reasons. One, it is set up outside and the tables are really odd (see photos) for a meal. Two: I was having a problem with the Tobino bites and didn't want to take a chance. This restaurant is dab smack in the middle of a jungle surrounded by a cenote. Here is the menu:
Ma-Loo Natural Fruit Bar
is the juice bar right on the beach blending fresh made smoothies. Absolutely delicious. No liquor at this bar (It would be kinda nice if they added some basic vodka, rum, whiskey, tequila). If you get a fruit smoothie and want alcohol you will need to walk a few steps to the pool bar where they are more than happy to free pour.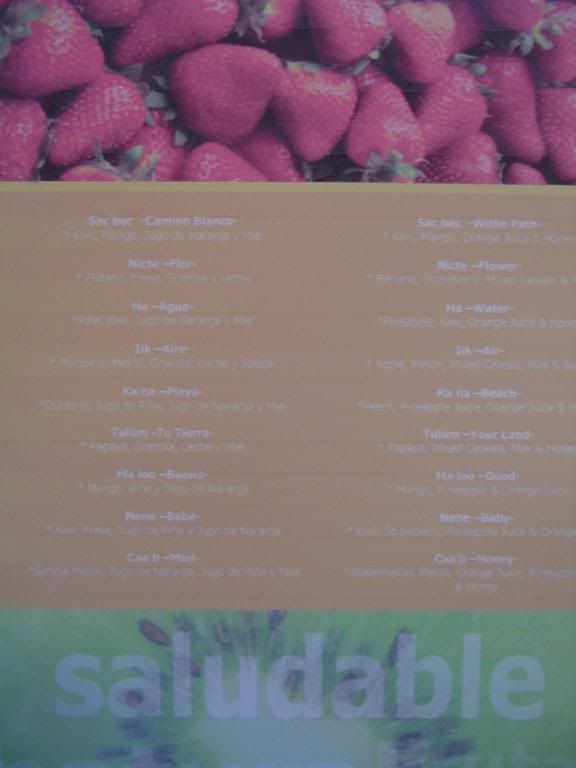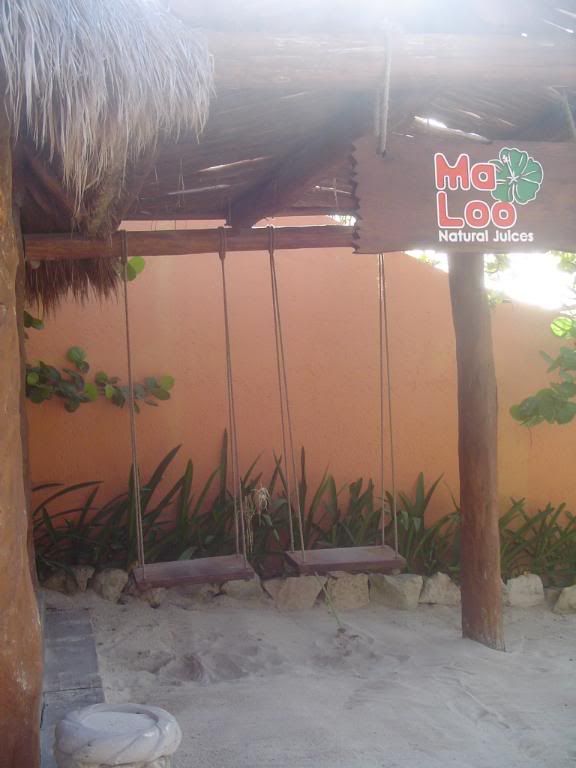 I posted the room service menu in my daily blog along with photos of the food (see this link:
http://chris-n-cheryl.com/v-web/bulleti ... hp?t=19867
) Room service food was always prompt. Sometimes the fries came cold. There were a few times they forgot accompaniments like ketchup or mayo. But I am absolutely sure if I had called they would have brought anything I liked. I really do like room service on vacation. Inevitably I eat at least one breakfast on the balcony, and especially when I travel alone there are times that I just don't' feel like dressing. All in all, I give room service a B+.
Breakfast was excellent at all times. Most of the time I went to the beach front restaurant and had continental breakfast. Sandy brought me fresh made toast, juice, and coffee. They also serve sweet breads and fruit. I really liked eating with a great view of the ocean. I had breakfast room service once, the Mexican omelet and it was great. I ate at the breakfast buffet twice. Below are some photos of the breakfast buffet. They have everything you can imagine (and yes, lox and bagels for our friends across the pond).
More food photos found here:
http://s41.photobucket.com/albums/e263/ ... l%20Tulum/
Overall:
Food is extremely subjective. For me, I prefer food in Jamaica over food in Mexico and food in Mexico over food in the Dominican Republic. I tend to like the food in the lesser poverty stricken destinations best (Aruba, Grand Cayman, USVI, etc...). All in all, I never went hungry and gained 4 pounds, so the food was just fine. More often than not, I found the food good. Sometimes it was great (seared sea scallops yumm). A few times I didn't like (Chateaubriand). But all in all, I have no complaints on the food and feel it compares favorably (although with a bit less selection) than other resorts in the area (Barcelo, Palladium, Princess, Secrets, etc...), and considering it prices significantly less, I'd say CRT is a hit. If you are looking for amazing food every night, you are probably better off not choosing an all-inclusive.